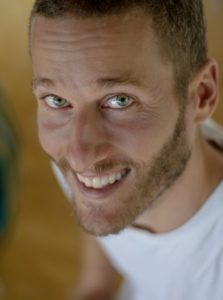 Born in Canada in an intentional community called L'Arche, Nicholas has always felt a deep calling towards community living and a life dedicated to service. In 2007, while traveling in India, he first stumbled upon the deep tradition of Yoga at a school called Agama and then began an intense sadhana (spiritual practice) which began to unravel some of the great mysteries he had always contemplated as a child.
This journey was further deepened upon meeting his teacher Sahajananda, founder of Hridaya Yoga, and participating in many 10-day silent meditation retreats as well as other individual retreats.
The Advaita Vedanta teachings of Nisargadatta Maharaj and of Ramana Maharshi presented by Sahajanada further deepened his understanding of the path of nonduality and the mystical poetry and teachings of Hafiz, Rumi and St. Francis among others, inspired in him a deep enthusiasm, love and surrender for the Divine. Two 500-hour yoga-meditation teacher training courses then enabled him to begin sharing this depth of living and his inner transformations with others.
Fluent in French, English and Spanish, his passion for languages not only allows him to offer the teachings to a wider range of people and cultures but also seems to explain his eclectic passion for other spiritual paths beyond those of classical yoga. Among others, he feels a special fondness and interest for Zen Buddhism and Sufism, two traditions which also highlight and embrace the deep Truth of our ultimate Oneness.
Community living, holistic nutrition, organic farming (permaculture), and a deeper connection to nature, are other passions which he also strives to integrate along his path of the Heart.
Nicholas now spends part of the year at the Hridaya headquarters in Mazunte, Mexico, where he teaches and serves the sangha (spiritual community) in whatever way he can. He also offers workshops in other parts of Mexico and Peru, among other places. Some of his footsteps also lead back to Canada where he spends his summers planting trees to earn a living and where he also visits his family.
He continues to seek ever greater inner transformation and longs to continue developing community where empathy, compassion, love and a calling for Truth are the hallmarks of daily life. While striving to breathe and live Truth more fully every day, Nicholas finds himself most fulfilled when he is at the service of others.