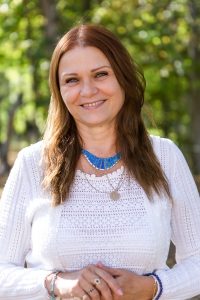 Simona Trandafir has been a spiritual teacher since 1985. During this time she has inspired and coordinated large groups of yogis. She is an experienced yoga teacher, as acknowledged by Yoga Alliance (E-RYT 500).
Even though she is a graduate of the Automation and Computers University, she felt that her entire life should be dedicated to opening people's hearts towards the inherent beauty of existence. This is what she was called to do since she was 12, and she now continues her mission. 
Hundreds of people from Bucharest, Constanta, Brasov, and other places in Romania started practicing yoga with Simona.
In 1995, she founded the Kamala Meditation and Yoga Centre in Brasov with Liviu Gheorghe and established a medical clinic based on natural and yoga methods in the Ceahlau Mountains. Simona, Liviu Gheorghe, Sebastian Teodor, Veronica Cernat, and Sahajananda are co-founders of the Kamala Yoga and Meditation Centre (established in 2007). In 1999, she also founded a yoga school in London together with some of her colleagues.
Being together with Sahajananda in life, and on the spiritual path, since 1976, Simona participated in the roots and flowering of Hridaya Yoga from the very beginning. In the 1990s, Simona, Sahajananda, and some other friends spread the teachings of yoga to large groups of people in Romania for the first time.
Simona also has a rich and fruitful activity of disseminating spiritual teachings by means of books, articles, and magazines she has written, edited and/or translated. These include The Mysteries Magazine, Yoga Magazine, and the Kamala Centre magazine – Elixirium. She transmitted and echoed, in this way, the spiritual tremor expressed by Ramakrishna, Rumi, Shankara, Ramana Maharishi, etc.
In 1984, she started meditation practice in the tantric realm of the Dasha Maha Vidya, The Ten Great Cosmic Wisdoms. Out of this, profound revelations and understandings came, which she now shares with others through workshops and initiations, in Romania and other countries in Europe.
Simona's activity at the Kamala Meditation and Yoga Centre, the Hridaya Yoga classes she gives in Brasov and in Bucharest, her contribution to the Kamala Publishing House, and the workshops and lectures she offers in Romania and abroad, are valuable proof of the continuity of her spiritual dharma.
Simona invites you to contemplate the sacredness of life by feeling the beauty of the Heart.
Events with Simona Trandafir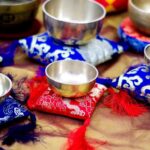 Meditation with Tibetan Singing Bowls in Romania
December 14, 2023
Kamala Center of Hridaya Yoga and Meditation 2023 holiday gift to all of you is a meditation with Tibetan singing bowls that will take place on Thursday, December 14, 2023, at 6:30 p.m., at our…