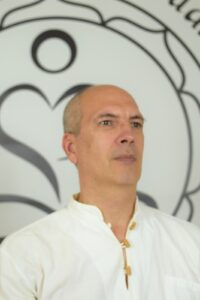 Sebastian started his yoga journey some thirty years ago at the age of 16 and grew up practicing. In 1996, he became a yoga instructor offering classes in Fagaras, Brașov, and Miercurea Ciuc, Romania and has been doing that full-time ever since.
Sebastian lives at the Kamala Yoga and Meditation Center in Brasov, where he continues to teach, practice, and learn. He gives yoga and meditation classes in Brasov, Bucharest, and online, offers retreats with his colleagues and friends at the Kamala Center, and is a senior teacher in the Hridaya Teacher Training Course in Romania. He has co-authored several books on yoga, meditation, and spirituality.
His first teacher, Simona Trandafir, intrigued him with a combination of poetry, appreciation of beauty and precision, and attention to important details. Yoga was aesthetics and science simultaneously. In the 1990s, he met Sahajananda, first as a friend and later as a meditation teacher. Sebastian affirmed that at that time, "for me, Sahaja was a genuine model of attainment through spiritual practice." In Sahaja, he recognized the same unusual and intriguing combination he had seen in Simona. Sahaja recited Shankara's poems with a heart full of devotion for Shiva and gave scholarly lectures about the Yoga Sutras. Simona was like Shakti, making you think about the poetic part but not so much about science, and Sahaja was like Shiva, inspiring you to think about the scholarly part but not so much about poetry. Later, Sebastian discovered that this is a mark of the Shaivite view of the world—beauty and science in a yoga that brings spirituality to life.
His next encounter with Kashmir Shaivism was through some beautiful verses on love, longing, and ecstasy in the poems of Utpaladeva, which he found in a book called Bhakti by Lilian Silburn. At that point, Sebastian became fascinated with Shaivism. With Simona, he translated and edited a booklet called the Kramastotra, a poem about Kali written by Abhinavagupta with commentary by Lilian Silburn (an excerpt from Hymns to Kali). He and Simona later published another translation from Silburn's books containing hymns and poems by Abhinavagupta. The books included poetry and extended commentaries on the meaning of the ideas presented in Shaivite philosophy. The process of bringing the Shaivite teachings to life in Romanian contributed to the deepening of Sebastian's intellectual understanding, which later helped his practice.
Sebastian and Simona also published a translation of Pratyabhijnahridaya, The Heart of Recognition by Ksemaraja, with helped him integrate the Shaivite vision into his Hridaya Yoga practice.
Sebastian participated in writing, translating, and designing spiritual books at the Kamala Publishing House. He also published books and articles on yoga and spirituality in Elixirium Magazine and Yoga Magazine.
With Liviu Gheorghe and Simona, Sebastian founded the Kamala School of Hridaya Yoga and contributed to the development of The Medical Establishment of Alternative Therapies (AMRITA) at Durău Resort.
Sebastian's entire life is based on the spiritual ideals of yoga. He aims to continue to spread the wisdom of yoga, meditation, and bhakti…
Events with Sebastian Teodor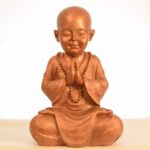 3-Day Hridaya Silent Meditation Retreat Online and in Romania
October 20 - 22, 2023
This retreat is offered in Romanian. Cei care doresc să se liniştească, să întrerupă curgerea agitată a vieţii, să se regăsească pe ei înşişi într-o oază de pace şi spiritualitate pot participa la această retragere…