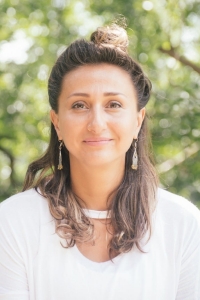 Blanca first discovered the Hridaya teachings in 2015, when she participated in a meditation retreat with Sahajananda. Ever since, she has been through a profound process of transformation that has awakened her longing for Truth and lead her to develop a deep practice of yoga and meditation. For several years she nurtured her practice while still working as a general director in the digital media scene in Mexico, a position that was the culmination of a broad trajectory of managerial and executive positions in the multinational corporate world.
In 2018, after going deeper in the non-dual teachings and the Consciousness of Oneness through her meditation practice, Blanca embarked on a journey that led her to participate in various teacher trainings and initiations in yoga, meditation, mystical rituals, Tantra Yoga, and the sacred feminine in Thailand, India, and Mexico. She graduated from the Hridaya Teacher Training Course, initiated as a teacher by Sahajananda, Antoaneta Gotea, and Claudiu Vaduva.
Blanca is currently part of the teaching team at our center in Mexico, where she teaches the Hridaya Modules and co-leads 3- and 10-Day Hridaya Silent Meditation Retreats in Spanish. She is also the founder of a project called "El Corazón Espiritual" ("Spiritual Heart"), which inspires people to begin the search for their Essential Nature, offering information, classes, and workshops through digital platforms and social media networks.
Blanca participated in the 49-Day Prathyabhijna Retreat. Every year, she dedicates time to deepen her practice by participating in silent meditation retreats and dark room retreats. She is committed to following the deepest desire of her heart, which is to live a life consecrated to the benefit of all beings, sharing the teachings that help create the conditions to reconnect with the real source of freedom, spontaneity, and happiness—the Heart.
Events with Blanca Amezcua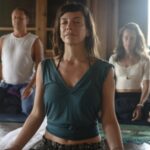 Retiro Hridaya de meditación en silencio de 10 días (en español)
December 23, 2021 - January 3, 2022
Bríndate el regalo del silencio Si tu anhelo es ir más allá de tu realidad cotidiana, aquietar tu mente y conectarte con la parte más profunda de tu ser, participa con nosotros en un Retiro…