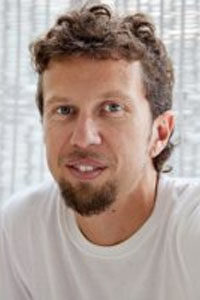 Marco is an aquarian born in 1978. He began the practice of yoga 20 years ago with the teachings of Paramahansa Yogananda and the Kriya Yoga, deepening the studies of Indian philosophy in many years spent in India. He is a long time disciple of Swami Vivekananda Saraswati founder of Agama Yoga, who initiate him to the supreme knowledge of the Tantric path of the Kashmir Shaivism , the Hatha-Yoga and Kundalini practices of the authentic Tantric Yoga tradition. He was certified with a teacher training course RYS 500 at Agama Yoga school in Thailand. He is also a meditation teacher following since many years his master Sahajananda founder of Hridaya Yoga who got him in contact with the teachings of Advaita Vedanta and meditation techniques of Ramana Maharishi, recently becoming a certified Hridaya Yoga teacher (RYS500).
He leads Hatha Yoga classes, workshops and meditation retreat around the world in various languages.
His strong aspiration and steady practice brought him to a very deep level of  knowledge and transmission considering Yoga the best way to contribute to the spiritual realization of other people, as well as an amazing way to improve his own spiritual growth.
His vision is to see a better future through the work of spreading the supreme knowledge of Yoga around the world.