Embody Your Divine Feminine Dance and Ritual Workshop in France
with Antoaneta Gotea
July 15, 2017
A 1-Day Workshop for Women Benefitting Hridaya Yoga France
"Dance, when you're broken open.
Dance, if you've torn the bandage off.
Dance in the middle of the fighting.
Dance in your blood.
Dance when you're perfectly free." –Rumi
This workshop is an invitation to meet yourself where you are in this moment. To accept, embrace, dance, sing, and worship whatever is present right now. Dance your happiness or sadness, your gain or loss, your light or shadows, and let your dance raise you above yourself. The poetry that you are will be written by your moving body.
Then, sit and talk with other women about love and worship.
You already know that ritual is deep within you. Let me just remind you…
DANCE
"Whosoever knoweth the power of the dance, dwelleth in God." –Rumi
"Dance until you shatter yourself." –Rumi
Experience:
Alchemical dance (a practice designed by Antoaneta to guide energy through the chakras)
5 Rhythms
Sufi dance
Dancing your poem
RITUALS
"Without love, all worship is a burden, all dancing is a chore, all music mere noise." –Rumi
Explore:
Simple rituals for daily life (smudging, rituals for cooking and bathing, etc.)
How to set up an altar in your own home
Mantra chanting
Nyasa (a ritual to divinize the body)
Register Now!
This event is offered by donation. All proceeds will be used for the development of Hridaya Yoga France. For more information or to register, please email france@hridaya-yoga.com.
Teacher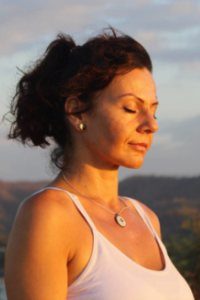 Antoaneta Gotea
Antoaneta Maria Gotea was born in July 1972, in Bucharest, Romania. The memories from her early age about her father practicing complicated physical exercises (known in yoga as uddiyana bandha) and unusual breathing (pranayama) synergistically connected with her mother's…
Learn more about Antoaneta Gotea