2-Month Advaita Vedanta Retreat in Guatemala
with Radha Iveta
July 15 - September 15, 2017
Event Date: July 15-August 15 (people are free to join for one or two months)
Location: The Hermitage, Lake Atitlán, Guatemala
Description of Event:
Participants will remain in silence for the entire retreat. Accommodations will be in private cabins or rooms and three vegetarian meals per day will be provided. Each morning will include a two-hour group meditation and a reading from an Advaita master or text, while the rest of the day will be for individual practice in the hall, gardens, private beach, or personal cabins. Retreaters can choose from one or two months of retreat and support is always available from the owners, Emma and Severin Geser.
The Hermitage Silent Retreat Center is seated on the shores of Lake Atitlán and offers silence and natural beauty for deep meditation and Self-Enquiry. Individual cabins (with private kitchens and bathrooms), private rooms, and dormitory accommodation is available and all accommodation options are quiet and have stunning views of the lake and surrounding volcanoes.
Website: thehermitageretreats.com/
Contact Information: info@thehermitageretreats.com or phone: 502 481 61361


Teacher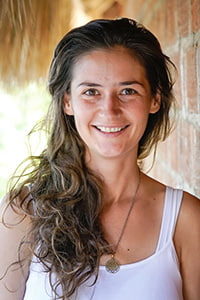 Radha Iveta
Radha is a Hridaya Yoga teacher and meditation practitioner who has spent many years living in our community in Mazunte, Mexico learning directly from Sahajananda. Inspired by the depth of the teachings, Radha has held…
Learn more about Radha Iveta