From Pain to Peace Workshop
Claudiu Vaduva
July 20 - 24, 2017
Course Fee: $160 USD (Accommodation and meals extra)
Course dates: July 21-23, 2017
Accommodation dates: July 20-24, 2017
From Pain to Peace is a workshop dedicated to learning practical methods to transmute past or current suffering, traumas or difficulties into awareness. Shifting to awareness from anger, sadness, or intense emotions, can be a powerful transformative spiritual practice when done skillfully. The methods used during these three days come from modern psychology, traditional yogic teachings and spirituality. Read more.
Schedule:
The workshop will begin in the morning, so we suggest arriving in Mazunte the day before the course starts. If you are a new student, please come to the Hridaya Yoga Center by 8:15 am on the first day to complete the registration process.
Morning Session: 8:30 am – 12:30 pm
Afternoon Session: 3:30 – 7:30 pm
Meals:
During the workshop, we invite you to join us for vegan meals served with love in the Hridaya Yoga Dining Room. Please book meals during checkout or email us for more information.


Teacher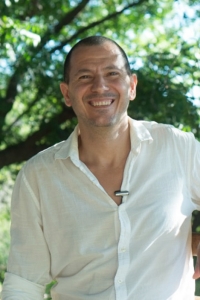 Claudiu Vaduva
Since 2005, Claud has dedicated his life entirely to spiritual matters. This came as a culmination of many intersecting circumstances and tributary interests that he had cultivated since childhood. In 2007, he met Sahajananada, and…
Learn more about Claudiu Vaduva