Cultivating Compassion Workshop
with Nicholas Currie
February 6 - 10, 2017
Course Fee: $2600 MXN (Accommodation and meals extra)
Course dates: February 7-9, 2017
Accommodation dates: February 6-10, 2017
This workshop will be an exploration of the reality that compassion is not something originating outside of us. During these three days, through various practices, exercises, and meditations, we will explore our capacity to live our lives centered in compassion. Learning to reveal compassion as innately present within us is one way of truly embodying the Hridaya spirit of "Living with an Open Heart." Read more.
Schedule:
The workshop will begin in the morning, so we suggest arriving in Mazunte the day before the course starts. If you are a new student, please come to the Hridaya Yoga Center by 8:15 am on the first day to complete the registration process.
Day 1
Morning Session: 8:30 am-1:00 pm
Afternoon Session: 3:30-7:00 pm
Day 2
Morning Session: 7:00 am-1:00 pm
Afternoon Session: 3:30-6:00 pm
Evening Session: 8:30 pm-7:00 am*
*Note that this includes an all-night vigil.
Day 3
Afternoon Session: 3:00-7:00 pm
Meals:
During the workshop, we invite you to join us for vegan meals served with love in the Hridaya Yoga Dining Room. Please book meals during checkout or email us for more information.


Teacher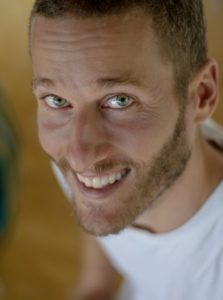 Nicholas Currie
Born in Canada in an intentional community called L'Arche, Nicholas has always felt a deep calling towards community living and a life dedicated to service. In 2007, while traveling in India, he first stumbled upon…
Learn more about Nicholas Currie