10-Day Silent Meditation Retreat in Romania
Sahajananda
August 4 - 15, 2017
This Hridaya Silent Meditation Retreat is held at Kamala Yoga and Meditation Centre, a retreat center whose lovingly supportive and beautiful atmosphere mirrors the gorgeous surrounding hills and forests of San Petru. Participants may enjoy walks in nature during meal breaks as well as peaceful rest and true Stillness in the quiet countryside.
The course is suitable for beginners as well as advanced practitioners. If desired, beginners may choose to participate in just the first 5 days of the retreat. The retreat is offered in English with Romanian translation, if needed.

Schedule for August 4th
14:00 – Registration and Orientation
16:00 – Hatha Yoga session and practical recommendations for the retreat. We strongly recommend participation in this yoga and meditation session, even for those who have participated in other Hridaya Retreats.
18:00 – Dinner
19:00 – Guidelines, principles, and the first lecture and meditation with Sahaja.
All administrative details will be resolved in the evening of the 4th, so when the retreat begins on the 5th the following 5 or 10 days will be exclusively devoted to meditation and interiorization.
Those who want to participate only the first 5 days will leave on August 10th. For the rest, the end of the retreat will be on August 14th, after the afternoon meditation and sharing session. On August 15th, there will be a last meeting for meditation and questions and answers, then we will have lunch and the participants will depart. On August 16th, there will be a spiritual trip around Brasov for meditation and yoga in nature. If you are interested, please ask for information.
The retreat is held in Sanpentru, a town about 2 km from Brasov. The trip from the airport in Bucharest to Brasov takes about three hours, either by train or bus. We can offer you all the necessary information for a fast and safe transport to Sanpetru.

Teacher: Sahajananda
Location: Kamala Yoga and Meditation Centre, 
Website: www.kamala.ro
Registration: contact@kamala.ro, +40 731 324 241
Teacher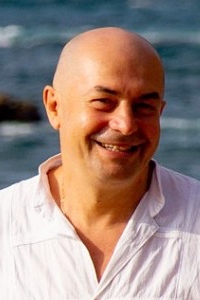 Sahajananda
Sahajananda, the main founder of Hridaya Yoga, is a meditation and Hatha Yoga teacher with over 35 years of experience. His message conveys the non-dual Tantric teachings. An engineer in electronics by education, Sahajananda started…
Learn more about Sahajananda