30-Day Silent Retreat in Guatemala
with Claudiu Vaduva
May 30 - June 30, 2021
Dive into a month of profound silence and advanced Hridaya teachings guided by senior Hridaya teacher Claud Vaduva, in the Hermitage's annual 30-Day Retreat. The retreat will involve a beautiful schedule of meditation, Hatha Yoga, self-practice,  contemplation time, and daily teachings on Advaita Vedanta (Non-Duality), the Self-Inquiry Method, meditation practices from Sufism, Buddhism, and Christianity, and sacred poetry.
LIMITED SPACES—REGISTER EARLY.

Special discounts apply for Hridaya teachers.
Website: thehermitageretreats.com
Contact Information: thehermitageretreats@gmail.com
Teacher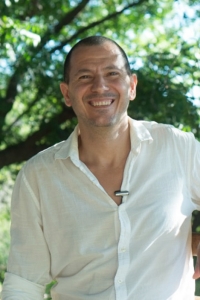 Claudiu Vaduva
Since 2005, Claud has dedicated his life entirely to spiritual matters. This came as a culmination of many intersecting circumstances and tributary interests that he had cultivated since childhood. In 2007, he met Sahajananada, and…
Learn more about Claudiu Vaduva