Hridaya Meditation Retreat Integration Course
with Kyle Brooks and Luna Cabasés Corral
April 3 - May 29, 2021
Course Fee: $220 USD
Course Dates: April 3–May 29
Free Introduction and Q&A: March 31, 10:00–11:30 am (Join

here

)
Orientation Session: April 1, 10:00–11:30 am
Course Sessions: Saturdays, April 3–May 29, 10:00 am–12:30 pm
Prerequisite: This course is open only to students who have completed at least one 10-Day Hridaya Silent Meditation Retreat (online or in-person).
An 8-Week Online Journey Integrating Daily Life in the Spiritual Heart
"Although realization may be instantaneous, deconditioning is a process." –Sahajananda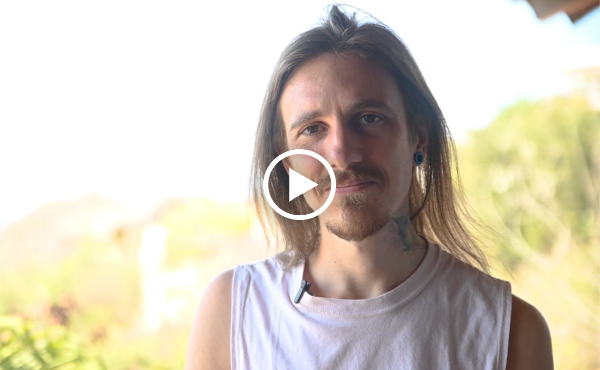 Something within you longs to know Reality, who you really are, in the deepest, most essential way.
Think back to your first Hridaya Silent Meditation Retreat. Remember how it felt to learn about the teachings of the Heart for the first time.
Remember the experience of tasting something profound and authentic within—Peace, Stillness, Love, Recognition.
You may have felt a genuine fire, a longing, to experience such a connection not only during retreat but as a direct, lived experience throughout life.
Yet, despite this yearning, the fact is that the demands of life and the latent tendencies of the mind still exist. And, even after this touch of grace, you may feel confused about how to continue. Distracted by old patterns, the sense of freedom can appear to fade as you return to everyday life.
If you are looking for support as you navigate this experience, then join us for the Hridaya Meditation Retreat Integration Course. An 8-week online guided immersion dedicated to the process of integration, it will help you blossom by stabilizing in the innate wisdom and love that awakens during retreat. Whether you have done one or many Hridaya Silent Meditation Retreats, the Hridaya Teacher Training Course, the Karma Yoga Immersion Course, or the 49-Day Pratyabhijna Retreat, this experience is for you.
COURSE CONTENT
With the guidance and in-depth support of experienced Hridaya teachers, this course creates the conditions for the integration of daily life into spirituality through the following core course elements:
Deepening and Stabilizing Your Formal Practice
We'll explore and refine formal practices, such as meditation and Self-Inquiry. This includes revisiting meditation techniques presented in the retreat to help you go deeper in their practice.
Meditating at home will help you build the habit of consistent self-practice. We'll support you in this process by beginning with guided group sessions and gradually moving to self-guided meditations synchronized with other course participants.
Deepening and Stabilizing Informal Daily Practices for Anchoring in Awareness
Every week we'll explore informal practices for anchoring in Awareness, the Heart. These techniques will help you experience a direct connection to the Self in everyday life. Moving beyond meditation in a formal way, you'll take your practice off the meditation cushion and begin to open to the intimate naturalness of Being, the background of every moment.
Learning to Embrace Daily Life from the Perspective of the Spiritual Heart
We'll revisit the core vision of the retreat to explore how to bring specific aspects of your day-to-day experience into this new paradigm and understanding.
You'll begin to recontextualize your relationship with the body, emotions, mind, and world. As you come to understand the nature of your being through the lens of the Heart, you begin a process of deconditioning that enables a radically different view of reality to bloom within you.
Supporting the Deepening of Trust and Spiritual Aspiration
No matter what challenges or obstacles may arise, trust and spiritual aspiration are indispensable in the journey to discovering who you really are. These qualities arise from an intuition of your Real Nature and create the conditions for you to surrender to the essential reality of your being.
When the flame of longing is lit within, when you trust in the depth of your being, your life will unfold on a background of beauty, intimacy, and grace.
Together, we will fan these flames and investigate how aspiration authentically manifests within you. You will learn how to cherish and nurture this aspiration, using it to guide you back home to the Heart.
Weekly Course Topics Include:
Week 1: Reconnecting with Yourself
Week 2: Your Relationship with the Mind
Week 3: Your Relationship with Emotions
Week 4: Cultivating Trust and Surrender
Week 5: Embracing Experience
Week 6: Your Relationship with the Body
Week 7: Self-love, Acceptance, and Forgiveness
Week 8: Love and Compassion for Others
SCHEDULE
All times are listed in Mexican Central Time.
Free Introduction and Q&A:
Wednesday, March 31
10:00–11:30 am CST
Join here.
Orientation Session:
Thursday, April 1
10:00–11:30 am CST
Link will be provided upon registration.
Class Meetings:
Saturdays, April 3–May 29*
10:00 am–12:30 pm CST
*April 3, 10, 17, 24
May 1, 8, 15, 22, 29
Final Sharing:
Saturday, May 29
Each course week runs from Saturday to Friday, and includes a unique topic explored through:
Introduction and Discussion Sessions: Every Saturday from 10:00 am–12:30 pm we'll meet on Zoom for a live class. Notes from these sessions will be provided on Sundays and recordings will later be available for download.
Each live session includes a short group practice, a talk on the topic of the week, small group discussions (using Zoom's breakout room function), and an all-group Q&A/discussion.
Pre-Recorded Technique Presentation Videos: After each Saturday live session, a 20-minute technique presentation video will be shared.
Guided Meditation: Recorded fresh each week, a guided meditation related to the technique introduced that week will be shared to help establish a connection to the practice.
Weekly Topic Reviews and Additional Supporting Materials: Every Wednesday we'll provide additional resources (such as poetry and writings from various spiritual traditions).
Group Forum: Throughout the course, there will be a group forum in which questions can be asked for the course teachers to answer.
IMPORTANT DATES
Orientation and Q&A Session: Thursday, April 1, 10:00–11:30 am
First Class: Saturday, April 3, 10:00 am–12:30 pm
Closing and Final Sharing: Saturday, May 29th, 10:00 am
COMMUNICATION
Although you will participate in this course from the comfort of your own home, we will be in close communication to offer the support you need.
This includes:
1. A weekly newsletter that will include links to all course session videos, notes, and supporting materials.
2. The option to be in direct communication with your teachers if you need individualized support.
3. Providing support for the use of Zoom. As all live sessions will be held on this platform, you will be provided video instructions on how to use it.
This course is only open to those who have completed at least one 10-Day Hridaya Silent Meditation Retreat (online or in-person).
Teachers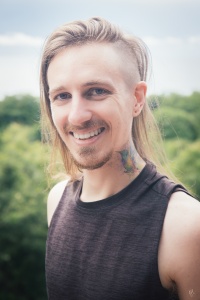 Kyle Brooks
Kyle's spiritual seeking and aspiration to find a deeper Truth began when he was just a 15-year-old boy studying Buddhism in England. After traveling to Peru in 2013 to work with plant medicines, he met…
Learn more about Kyle Brooks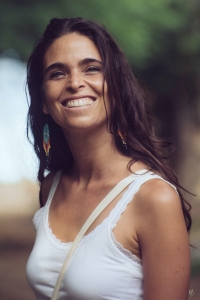 Luna Cabasés Corral
Originally from Spain, Luna has been sharing the Hridaya teachings informally since she first discovered them in 2012. A profound fascination with the non-dual teachings and a burning longing to directly experience their truth led her…
Learn more about Luna Cabasés Corral