At-Home 3-Day Hridaya Silent Meditation Retreat (in English)
with Claudiu Vaduva
June 19 - 21, 2020
Course Fee: $90 USD
Course Dates: June 19-21
Introduction and Q&A with the Retreat Leader: June 18*
Orientation Videos: Available

here
Register for the 3-Day At-Home Retreat with Sahajananda (Central European Time)—available live and by recording—here.
Register for the 10-Day At-Home Retreat with Claud here.
*It is not possible to register for this retreat after the start of the intro session on June 18th.
Join Us for a Special 10-Day Online Retreat!
During the current global health emergency, it is more important than ever to stay centered and not be overcome by panic, fear, or anxiety. The opportunity for spiritual communion is also vital right now. So, join us for this at-home version of the 10-Day Hridaya Silent Meditation Retreat and give yourself the gift of both the time to go deep inside yourself and the ability to come together in practice with others, across all social isolation. In this way, you will be able to dive into our shared sacredness, transcending fear while opening to true love and compassion.
How It Works
This retreat will be shared via Zoom, so you can join from the comfort of your own home. You will be provided with information on the technical aspects of the retreat prior to its start and will have an opportunity to ask questions so you will be well-prepared for the experience. Although joining remotely, we ask that you follow the retreat schedule and abide by the retreat guidelines (noble silence, sexual abstinence, no use of electronic devices [except the one you will use for Zoom], etc.). If issues arise during the retreat, you will be able to contact the Retreat Coordinator for assistance. You will also be able to send questions related to the practice to the Retreat Leader, who will answer them during nightly Q&A sessions.
Orientation
A set of orientation videos is available here. We ask that you watch these videos prior to the live Introduction and Q&A with the Retreat Leader on June 18th at 2:30 pm Mexican Central Time. This session will give you an opportunity to meet Claud, the Retreat Leader, and ask clarifying questions about the at-home retreat experience. It is not possible to register for the retreat after this time.
Discounts and Scholarships
We know that this is a difficult financial time for many people. If your aspiration is strong but your resources are few, we invite you to take advantage of a 30% discount by using the code HOME at checkout. If your need is even greater, please apply for a scholarship.
Schedule
Note that all times are listed in Mexican Central Time (GMT -5). If joining from another time zone, please use a time zone converter to confirm session times in your area.

| | |
| --- | --- |
| Morning Sessions | |
| 7:00 – 9:00 am | Meditation and teachings |
| 9:00 – 9:15 am | Break |
| 9:15 – 11:00 am | Hridaya Hatha Yoga |
| 11:00 – 11:30 am | Meditation |
| Afternoon Sessions | |
| 3:00 – 4:10 pm | Presentation of teachings |
| 4:10 – 4:20 pm | Break |
| 4:20 – 5:30 pm | Meditation |
| Evening Sessions | |
| 6:30 – 7:15 pm | Q&A |
| 7:15 – 7:45 pm | Presentation of technique |
| 7:45 – 8:30 pm | Meditation |
PLEASE NOTE:
Following an at-home silent meditation retreat may surprise you in many ways. One of the most inspiring phenomena is related to what in metaphysics is called "spiritual transmission." This is a special form of telepathy. The word "telepathy" comes from the Greek tele, "distant" (as in telephone and television), and pathe, "feeling" (as in empathy and sympathy). Literally, it means a "distant feeling," as it is a transmission of information (thoughts, emotions, spiritual inspiration) from one being to another without physical interaction or the use of any known sensory channels. During this online transmission you will be surprised to feel the subtle connection among participants and between yourself and the Retreat Leader. Such liberating experiences can carry you beyond the limited frontiers of the confined body/mind.

"There is a depth in those brief moments which constrains us to ascribe more reality to them than to all other experiences."
–Ralph Waldo Emerson
Teacher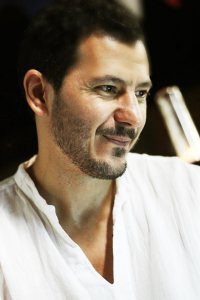 Claudiu Vaduva
Since 2005, Claud has dedicated his life entirely to spiritual matters. This came as a culmination of many intersecting circumstances and tributary interests that he had cultivated since childhood. In 2007, he met Sahajananada, and…
Learn more about Claudiu Vaduva