5-Day Art of Awareness Workshop
with Sahajananda
February 11 - 17, 2020
Course Fee: $280 USD (Accommodation and meals extra)
Course dates: February 12-16, 2020
Accommodation dates: February 11-17, 2020 (6 nights)
This year Sahajananda will offer an extended 5-day program for the Art of Awareness Workshop. The program will run as usual for 3 days, studying and practicing the techniques and relevant theoretical aspects for the practical application of the teachings of the Vijnana Bhairava Tantra. In the following 2 days (optional), new methods will be presented, alongside continued practice for deepening an understanding of the techniques introduced in the first 3 days.
Register for the 3-day program here.
Schedule:
The workshop will begin in the morning, so we suggest arriving in Mazunte the day before the course starts. If you are a new student, please come to the Hridaya Yoga Center by 8:15 am on the first day to complete the registration process.
Morning Session: 8:30 am-1:00 pm
Afternoon Session: 4:00-7:00 pm
Meals:
During the workshop, we invite you to join us for vegan meals served with love in the Hridaya Yoga Dining Room. We offer breakfast and dinner on all five days of the course. Please book meals during checkout or email us for more information.
Teacher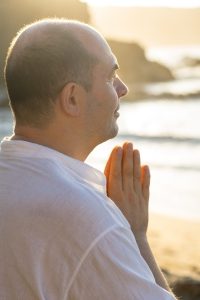 Sahajananda
Sahajananda, the main founder of Hridaya Yoga, is a meditation and hatha yoga teacher with over 30 years of experience. His message conveys the non-dual tantric teachings. An engineer in electronics by education, Sahajananda started practicing yoga…
Learn more about Sahajananda