49-Day Prathyabhijna Retreat
with Sahajananda
January 31 - March 19, 2020
A 49-Day Individual Silent Meditation Retreat with the Personal Guidance of Sahajananda
The Prathyabhijna Retreat is an invitation to all those who have the calling to take their existing meditation practice to a deeper level. It is an invitation for those with a profound aspiration to deepen their spiritual understanding and to stabilize in the consciousness of oneness.
The classic 49-day period begins with participation in a 10-Day Hridaya Silent Meditation Retreat led by Sahajananda, followed by 39 days devoted to intensive meditation practice in an individualized setting. During the weeks of solitary meditation Sahajananda will continue to provide personal supervision, guiding each practitioner through the retreat via written communication.
This Individual Silent Meditation Retreat will suit seasoned Hridaya practitioners and adepts of other practices alike, and requires strong determination and an attitude of surrender to the Spiritual Heart, the Divine Consciousness. Read more.
Accommodation and food during the retreat are provided for an additional charge. Check out the Prathyabhijna Retreat FAQ or email us for more information.
Teacher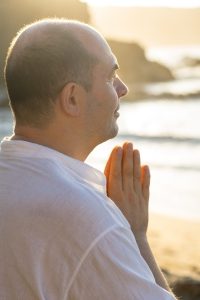 Sahajananda
Sahajananda, the main founder of Hridaya Yoga, is a meditation and hatha yoga teacher with over 30 years of experience. His message conveys the non-dual tantric teachings. An engineer in electronics by education, Sahajananda started practicing yoga…
Learn more about Sahajananda