10-Day Hridaya Silent Meditation Retreat in Thailand
Sahajananda
May 13 - 22, 2018
Sahaja returns to Agama Yoga!
This 10-Day Hridaya Silent Meditation Retreat is suitable for beginners as well as advanced practitioners.
Included: Daily silent meditation practice, Hridaya Hatha Yoga sessions, walking meditation, lectures about the Spiritual Heart, sharing circle at the end of the retreat. Note: This is not a residential retreat, accommodation should be arranged by participants on their own. It is strongly suggested that participants choose either solitary accommodation or shared accommodation with other retreat participants of the same gender.
Retreat Fee: 8,000 THB (Early Bird Discount: 7,500 THB, valid until May 6, 2018)
Location: Agama Yoga School, Srithanu, Koh Phangan, Thailand
Registration: info@agamayoga.com; + 66 89 233 0217

Teacher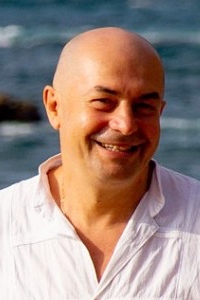 Sahajananda
Sahajananda, the main founder of Hridaya Yoga, is a meditation and Hatha Yoga teacher with over 35 years of experience. His message conveys the non-dual Tantric teachings. An engineer in electronics by education, Sahajananda started…
Learn more about Sahajananda