Tantra Is Bliss Workshop
with Antoaneta Gotea
December 21 - 23, 2018
Course Fee: $160 USD (Accommodation and meals extra)
If you're curious about tantric lovemaking, whatever your experience level, this workshop will help you learn methods and techniques for exploring the art of tantric intimacy. This workshop will focus mainly on practical, efficient methods through which the practitioner can harness sexual energy to reach altered states of consciousness and, ultimately, to go beyond.

Read more.
The Tantra Is Bliss Workshop does not include any nudity or explicit sexuality and is appropriate for men and women, singles and couples.
Schedule*:
The workshop will begin in the morning, so we suggest arriving in Mazunte the day before the course starts. If you are a new student, please come to the Hridaya Yoga Center by 8:15 am on the first day to complete the registration process.
Morning Session: 8:30 am – 12:30 pm
Afternoon Session: 4:00 – 7:00 pm
Meals:
During the workshop, we invite you to join us for vegan meals served with love in the Hridaya Yoga Dining Room. Breakfast and dinner will be available on Friday and Saturday. Please book meals during checkout or email us for more information.
*Session times subject to change.
Teacher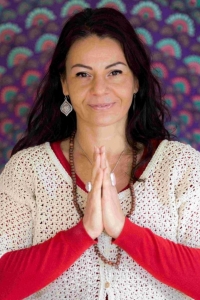 Antoaneta Gotea
Antoaneta Maria Gotea was born in July 1972, in Bucharest, Romania. The memories from her early age about her father practicing complicated physical exercises (known in yoga as uddiyana bandha) and unusual breathing (pranayama) synergistically connected with her mother's…
Learn more about Antoaneta Gotea