Meditation with Singing Tibetan Bowls in Romania
with Simona Trandafir
October 27, 2017
Himalayan bowls, especially known as Tibetan bowls, produce very refined sounds that can help you purify, relax, and go beyond the agitated mind to discover the deep silence of the Spiritual Heart.
The Eastern tradition considers that singing bowls appeared a few centuries before Buddha (560-480 B.C.), from the Tibetan Bon tradition.
Their sounds bring the brain into theta frequency, which is characteristic of meditative experiences. It clarifies the mind, the whole being becomes quiet, and the intuition awakens to its true capacity. The resonant vibrations of the bowls have a beneficial impact on the nervous system, bringing relaxation and the elimination of stress and pain.
Although playing multiple bowls can produce interesting music, this is not what we do during the meditation. We use singing bowls to carry us into the highest beauty of our being, that of the Spiritual Heart.
Their vibration creates an immediate centering effect in the Heart and balances the hemispheres of the brain.
We will use both metal bowls and crystal bowls, as both categories have profound beneficial effects on the entire being.
The meditation sessions will take place as follows:
Bucharest: Tuesday, October, 31st from 6:30-8:30 pm at Kamala Center, 56-58 Căderea Bastiliei Street, 6th floor, Room 602
Brasov: Friday, October 27th, from 6:30-8:30 pm at Kamala Center, 54, Avram Iancu Street
Telephone: 0731.32.42.39 (Bucharest) or 0731.32.42.41 (Brasov)
Email: centrulkamala@gmail.com

Teacher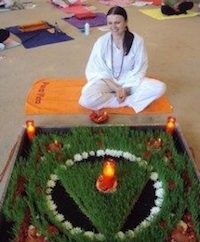 Simona Trandafir
Simona Trandafir has been a spiritual teacher since 1985. During this time she has inspired and coordinated large groups of yogis. She is an experienced yoga teacher, as acknowledged by Yoga Alliance (E-RYT 500). Even…
Learn more about Simona Trandafir