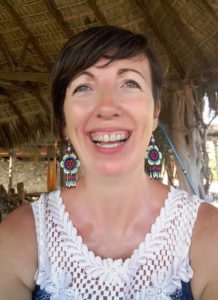 Diane is Irish and was raised as Roman Catholic. Her mother had cancer and left her body when Diane was only 18. This heartbreak has led Diane to question God, life, and death since 1998. She has continued to heal and search for the meaning of life while supporting others of all ages do the same.
Diane has a deep calling to help others and completed two Bachelor of Arts degrees in Social Care. She has worked in hospitals, homes, and communities in Ireland, France, and Australia. She cared for those with life-threatening illnesses and has witnessed many people go through the dying process.
As part of her spiritual and healing journey, Diane went to church regularly. She also started exploring meditation classes, yoga, spiritual dance, retreats, etc. Eventually, she moved to Mexico for its warm climate and joined a spiritual community, which led her to Hridaya. Arriving at the gates of the Hridaya Yoga Center in 2014 and seeing a banner that said "Yoga of the Spiritual Heart," Diane knew that she had found her home. Diane joined the team as a karma yogi in order to serve others while learning and practicing the teachings.
In 2015, Diane completed the Hridaya Teacher Training Course. Upon graduating, she taught meditation and hatha yoga and led evening activities at the Center. She also served as our Retreat Coordinator, supporting participants in many 10-Day Hridaya Silent Meditation Retreats as well as the 49-Day Prathyabhijna Retreat. Diane herself participated in the 49-Day Retreat in 2016.
In addition to her work at our center in Mexico, Diane has also shared the teachings in Ireland and at the Plum Village Community in France.
Diane loves community living and continues to serve others through her work, life experiences, and spiritual practice. She aspires to spread the beautiful non-dual teachings to as many beings as possible.