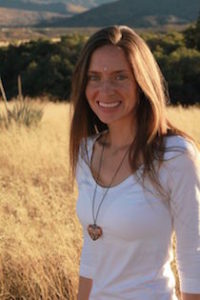 Tiffany Nicholson-Smith, a radiant yogini, lover of life and devotee to service, brings her clarity, abundant energy and aspiration for truth into everything she commits herself to. Her interests span the globe and all aspects of life, encompassing any teachings and knowledge that will contribute to the growth of her heart and always with a consideration for the benefit of all those she touches.  A world citizen, she approaches life and every culture with an open heart, touched by the diversity of ways that the Divine is honored throughout various traditions.
Tiffany first came to Yoga as an avid athlete and figure-skater, enjoying the rigorous personal practice, but longing for the self-exploration and spiritual depths that she had only heard of. It was in India, almost 10 years ago, that she was deeply touched by the profundity of Yoga & Meditation. Since then she has studied and practiced intensively with various teachers and masters, received more than 1500 hours of teacher training, and she now teaches worldwide.
She is inspired by Tantra Yoga, Advaita Vedanta, and the wisdom of Spiritual Nutrition & Ayurveda and, having experienced the oneness in these approaches, she draws upon their wisdom to offer their truths in a perfect synergy that is both accessible and highly applicable. She brings a semblance of these teachings together to create classes, courses and retreats that are not only comprehensive and intelligent but also deeply joy-filled and celebratory of the blessing of life.
In June 2011 she participated in the Hridaya Teacher Training Course. For Tiffany there is nothing that brings her closer to the Divine than this gift of teaching. She feels so appreciative to have been blessed with these teachings, and so humbled to have the opportunity to share them with others.