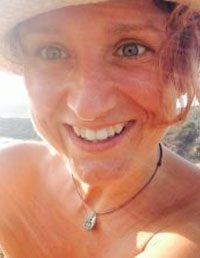 Teacher, Meditator, Explorer, Woman. Her Home is where her Heart is.
In 2013, Gosia (short for Malgorzata) took a major turn to free herself from preconceived ideas of what life should look like. She took a career break from a successful corporate life to find her true passion and a new recipe for life. The break turned into two years of exploration of deep yearning and the true calling of the Heart, as she stumbled upon the Hridaya Yoga Center. In this paradise setting, she explored the teachings of non-duality. She meditated daily, practiced hatha yoga, and participated in many silent retreats, including the 49-Day Hridaya Silent Meditation Retreat in solitude. This profound experience affected all aspects of her life. After that she stayed in Mexico to teach the Module 1 Intensive and coordinated several 10-Day Hridaya Silent Meditation Retreats. She continued her journey in the UK and Poland, sharing her love for life and her passion for the practice of yoga and meditation.
Gosia currently teaches silent meditation retreats in Peru and continues to walk the path of the Heart and write about it on her blog.