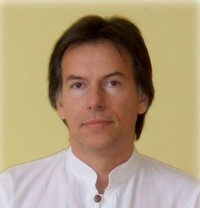 Liviu Gheorghe graduated from the Bucharest Polytechnic Institute, Department of Computers, in 1986. His first spiritual experiences related to the expansion of consciousness were at the age of 16 when he was studying Christian doctrine and, later, Buddhism.
He started studying and practicing yoga and meditation in high school and began to teach yoga in 1991 in three Romanian towns: Bucharest, Constanta, and Brasov.
In 1995, he founded the Kamala Yoga Center with Simona Trandafir.
The Kamala Center is one of the most active promoters of the holistic system of spiritual healing and Naturopathy in Romania. Aiming to promote specific principles of healthy eating and to facilitate the process of purification and healing of body, they founded the first magazine and the first herbal pharmacy in Brasov.
Between 1994-1995, Liviu, in collaboration with Simona, organized The Medical Establishment of Alternative Therapies – AMRITA at Durău Resort, and implemented intensive methods of natural treatment with excellent results.
From 2007-2009, Liviu participated in the construction of the new headquarters of the Kamala Yoga and Meditation Center in  Sânpetru, near Brasov. During this period, he and Simona, Sebastian, and Veronica promoted Hridaya Yoga. Very quickly, many students adopted this path of spiritual transformation that is based on Advaita Vedanta.
In 2010, Liviu developed the program "3R – Regeneration, Revitalization, Rejuvenation" for seniors. In 2011-2012 he also volunteered at a retirement home in the Săcele town and at the Kamala Center in Brasov.
Liviu continues to practice, promote, and develop different methods for spiritual transformation, personal development, and natural healing. He also advises many couples in ways to harmonize their relationships and find spiritual transformation through love. Liviu teaches daily yoga classes.
"I am convinced that in the coming years, increasingly more people will open to spirituality in a way that does not have anything to do with religious dogma, social pragmatism, prejudice, fanaticism, and sectarianism and will opt for direct spiritual experience. I believe in the mystical power of the Spiritual Heart."
Books by Liviu:
– "The Book of Man" (1995)
– "The Book of Women" (1997)
– "Healing and purification diet and fasting" (1998)
– "Heart Whispers" (mystic poetry)
– "Words of Light – Jewels of Christian mysticism" (2003)
– "Principles and directions in natural healing" (2007)
Events with Liviu Gheorghe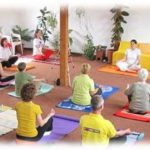 Hridaya Meditation and Hatha Yoga Classes in Romania
Open Dates
Kamala Meditation and Yoga Centre in Brasov and Bucharest, Romania offers ongoing Hridaya Meditation and Hatha Yoga drop-in classes. Information: centrul.kamala.ro Contact: centrulkamala@gmail.com