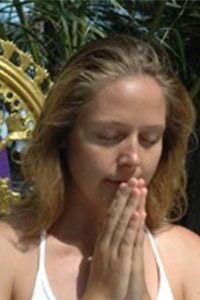 Kirsten studied Architecture and Art History in Berlin. She later founded a development aid organization and traveled extensively in Asia and Latin America. In 2001, she discovered yoga and began a dedicated practice in a Sivananda Yoga Ashram in India. This experience was followed by a comprehensive three-year education in hatha and kundalini yoga with Swami Vivekananda Saraswati which introduced her to the more subtle aspects of asana, pranayama, mudra, bandha, and yogic philosophy.
Kirsten's later studies with Reinhard Gammenthaler deepened her personal practice and her understanding of the yogic tradition. In Mysore, India, she studied Ashtanga Vinyasa Patanjala Yoga with Sri Sheshadri, Pranayama with B.N.S. Iyengar, and the Yoga Sutras of Patanjali with Jayashree and Narasimhan.
Kirsten's meditation practice is based on Ramana Maharshi's non-dualistic teachings and Sahajananda's Yoga of the Spiritual Heart. She has participated in more than a dozen Hridaya (Spiritual Heart) Meditation Retreats, which have deeply influenced her practice, her teaching, and her way of living.
An Experienced Registered Yoga Teacher (E-RYT-200) accredited by the international Yoga Alliance, Kirsten has completed 500 hours of certified Teacher Training (IYF and RYS). Since 2008, she has been teaching full-hearted and year-round in Asia, where she has been developing educational programs, leading meditation retreats, presenting teacher training courses, and teaching hatha, ashtanga and kundalini classes.