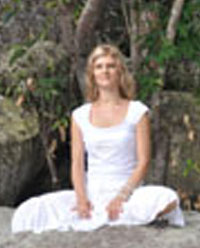 "Accepting with Love 'what is, as it is.'" Juliane grew up between the Austrian mountains and the beautiful German countryside of Munich. Since childhood she felt a natural deep connection with the divine consciousness. She studied Art, Fashion- and Graphic design and works as a designer, many years in Florence and now all around the world.
2007 she found the Agama/ Trika school in Rishikesh in India and discovered her passion for Tantra Yoga. After her first Hridaya Retreat in Thailand with Sahajananda she finally had the feeling of truly coming back home, in the Heart.
In 2011 she danced through the Mystical Dance Teacher Training and learned how to celebrate her feminine qualities. 2012 she joined the Hridaya Yoga and Meditation Teacher Training in Mexico, feeling incredibly blessed with the teachings and lucky to live Hridaya and integrate it into life.
Most important for her in this lifetime is living with an open heart and that her fellows, beloved family and friends are happy in their own nature …
Juliane teaches Mystical Dance, Hridaya Yoga and Meditation in German, English and Italian.
Contact Juliane:  lovejuliane@gmail.com