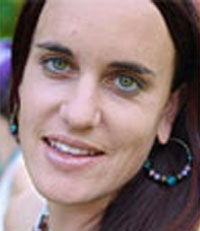 Esther Greter grew up in a little village in the heart of Switzerland where she spent most of her time in the fields and forests of the area either on the back of a horse or adventuring with her dog.  She remembers that even at a very young age she was struck again and again by the beauty of nature and life in general and found herself wondering about her existence on this earth. She calls her grandmother with whom she grew up her first spiritual teacher and role model, a real inspiration for true devotion to God and conscious living.
In 2003, after graduating from High School, she went to England to study the English language where she came across a Buddhist Meditation Group where she found the first answers to her deep questions at that time.
Later in the year she returned to Switzerland to study Social Anthropology, Ecology and Science of Religion at the University of Bern. During this time she also attended different yoga courses always trying to find more answers and insights but never felt that she found what she was looking for.
On her first trip to Asia in 2006 she worked with an NGO in the development of an Eco Tourism Project in the North East of Thailand. After that she traveled to India where a friend recommended that she visit Agama Yoga in Rishikesh. Initially intending to stay for one week, she ended up completing the entire First Month Intensive Course in April 2007 and has been practicing Agama Yoga ever since. She immediately felt that these teachings were exactly what she was looking for. She has visited Agama Yoga in Thailand every year since 2008, and has gone deeply into the practice of Agama and Hridaya Yoga as well as Traditional Thai Massage and Devotional Singing.
In 2011 she attended the first Hridaya Meditation and Yoga TTC, an experience which she calls the best of her life, the one in which experienced the most learning and felt has touched her heart the most deeply. She started teaching Hridaya and Agama Yoga in the same year and feels honored and blessed to be able to share this life changing knowledge with the world.
Esther wishes to express gratitude to Swami Vivekananda Saraswati, to Sahajananda, and to all her other teachers for sharing with her the most precious gifts of all.