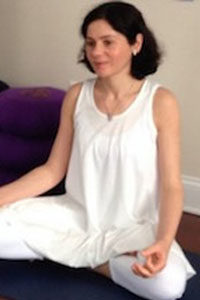 Adina is a Saraswati Devi, an introverted Leo who has dedicated her life to Self-realization, helping and guiding others and bringing the Truth into the world. Adina has studied meditation since 1992, and yoga since 1998 – after years of spontaneous yoga practice and introspection through her entire childhood, the feeling of "being guided" from a subtle plane of existence, super-conscious awareness, dedication to righteousness, the sense of sacredness and Divine Grace.
She has undergone her first years of seeking into spirituality on her own, during her teenage, reading books and searching through libraries and documents archives with fervor and vibrant aspiration – while living her life as a secluded teenager and reclusive young girl completely absorbed in study and introspection. She made her first steps in meditation self-practicing entirely from the books, and discovered the beauty and the richness of a "different kind of life" – the life of the seeker and aspiring person, searching for God and the pure understanding of the Divine nature. That was further established as her lifetime Self-realization pathway.
She attended her first formal meditation and transpersonal psychology classes in 1995 and joined a Yoga school in 1998. She met Sahajananda in 1999 and immediately joined his long and inspiring spiritual retreats, which she has continued to attend for years. Studying with Sahajananda and a few other wonderful teachers for 15 years in her first yoga school in Romania gave her a solid grounded guidance to progress and settle on her path.
After emigrating to the United States, Adina received her yoga teaching certification with Ananda Kula school in the USA. She first visited the Hridaya Yoga Center in Mazunte in 2014, participating in a 10-Day Hridaya Silent Meditation Retreat. The Hridaya teachings of Advaita and the Meditation of the Spiritual Heart have brought a new vision into her life, allowing her to make the journey of I-amness "back into the Heart" and rediscover her True Nature, the awareness of Atman, in the vastness of the Cave of the Heart; she found the sweetness of surrendering to Spanda in the state of faith and devotion to the Divine, to Oneness, and turned the journey of her life into the journey of the Heart. Adina completed the Hridaya Teacher Training Course the same year and she immediately started to teach Hridaya Hatha Yoga and Meditation classes and workshops in several cities in North Florida, USA. She currently gives Hridaya Silent Meditation Retreats in Fernandina Beach City and Jacksonville City area, aiming to develop herself as a true "trainer of the Heart."
Adina studied and received her empowerment in Vajrayana Buddhism with Bardor Tulku Rinpoche, who gave her the spiritual name Sarasvati Devi. She also studied Taoist teachings with Grandmaster Mantak Chia since 1999 and continues with various teachers and schools up to the present day. Adina is a certified Tai Chi and Qigong teacher and an active researcher in Taoist Alchemy.
As a professional, Adina has completed a 20-year career in project management, international consultancy, university lecturing, bi-lingual journalism, and she was awarded a PhD in Biomedical Informatics – a career she recently abandoned for the sake of spiritual study and teaching. Adina still performs independent research in Contemplative Neuroscience and the impact of contemplative practices (like meditation) on balancing the human nervous system, establishing the heart-mind coherence, the mind-and-body integrated approach to health and development, and the impact on the ageing process. She maintains international collaborations with her old-times research partners who show vivid interest in her current and intriguing research topics.
Adina is the founder of Satya Sattva studio and study group – which includes a branch of Hridaya School. She currently lives a retreat life on Amelia Island, Florida, together with her wonderful husband and son.