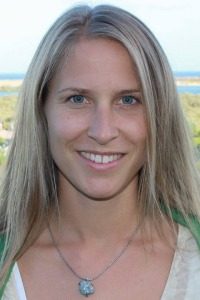 When Naomi first discovered Hridaya Yoga through a 10-Day Hridaya Silent Meditation Retreat in 2011, she had the profound feeling that she had finally come home. At that time, she was about to embark on further university study back in New Zealand, but maintained a quiet confidence that her path would lead her back to Hridaya.
Five years later, with a Bachelor of Science in Psychology with honors, a Master of Science in Psychology, and a Post Graduate Diploma in Clinical Psychology, she made her way to Mazunte to complete the 2016 Hridaya Teacher Training Course. These teachings enabled her to bridge the gap between Western psychology and Eastern philosophy. She is now integrating both in her therapeutic approach, which involves going into and healing old wounds as a way to open the heart and move forward on the spiritual path. She aspires to continue to serve others and live with an open heart herself.
As of March 2017, Naomi will be offering one-on-one psychological therapy and group workshops at the Hridaya Yoga Center in Mazunte. She is also available for private consultations on Skype.
Contact Information
Facebook: Psychology for Transcendence
Email:psychology@hridaya-yoga.com
Phone or WhatsApp: +52 954 157 5581