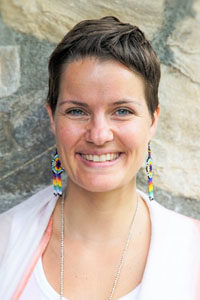 Since stepping on the path of Hridaya in 2013, the Heart has been Uma Esmeralda's guide. It taught her to trust and open more and more to what is here right now. It has been a journey of going deeper in the quest of "Who am I?" and seeing how the magic of life unfolds in wonderful ways. Uma Esmeralda speaks about it as doors opening that she had never known existed. It has brought the release of layers that no longer serve her.
Uma Esmeralda has experienced major inner shifts as well as transformations from spiritual healing. The way she relates to life, herself, and others has changed tremendously. She shares: "Opening the Heart has been about learning to love unconditionally. Being who I am—naked, vulnerable, and authentic. Walking the talk without masks, and being sensitive to life as it is."
After finishing the 2013 Hridaya Teacher Training Course (HTTC), Uma Esmeralda felt a bright fire burning inside her that encouraged her to share the precious teachings of the Spiritual Heart. "To be Love, in whatever form," as she had learned. Originally from the Netherlands, she started teaching there, sharing Hridaya Meditations (both in person and online) as well as the Hridaya Yoga Retreat: Module 1 Intensive and Hridaya Silent Meditation Retreats. She has been teaching ever since and has found it to the greatest support for her own integration of daily life into spirituality. The gift of sharing with others has allowed her to deepen her understanding of the teachings.
In September 2016, Uma Esmeralda moved to Mexico with her partner Mathijs. Mathijs completed the 2016 HTTC and together they will continue their journey in Mazunte. Mathijs will be the Hridaya Center Manager and Uma Esmeralda will serve the Hridaya Community as the Karma Yoga Manager. About this new adventure she says, "I'm deeply grateful for the opportunity to surrender to the depth of karma yoga (selfless service) in this amazing Heart family. I join the community with a heart full of inspiration to share the best of myself and to create an openhearted space where everyone who comes to serve at the Center feels at home and supported in their spiritual journey."
In addition to being a Hridaya Yoga teacher, Uma Esmeralda is also a spiritual life coach, sacred body worker, Mahatma Healer, and writer. She can be reached at this address.