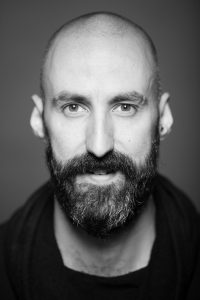 Enrique is an international meditation and yoga teacher, member of the Hridaya Yoga community, and founder of Casa Hridaya in Mexico City. He shares the teachings he has received from his teachers and his different practices.
He started his meditation practice with yearly Vipassana retreats (under the teachings shared by S.N. Goenka). He continued this practice for many years, which allowed him to integrate meditation into his daily life while he was working as a marketing and media director in the multinational corporate scene.
After meeting his Kabbalah teacher (Rab J.A.F.), for several years he studied the mysticism of the Torah and the Zohar, diving into his understanding of spirituality.
In 2014, he met Sahajananda, Antoaneta Goeta, and the teachings of Hridaya Yoga. Sahaja showed him the possibility of integrating daily life into spirituality (and not the other way around). This meeting with his beloved teacher gave him a wider vision of the similarities between different traditions, religions, and spiritual teachings. Enrique describes the moment as: "I felt as if a voice outside me expressed the most loving wisdom of my Heart."
Sahaja introduced him into the non-dual Tantric teachings, which have become Enrique's inspiration for his daily practice of silent meditation, yoga, and the study of sacred, esoteric, and mystical scriptures from different traditions.
Inspired by the Vijñana Bhairava Tantra and Nada Yoga, Enrique has also been studying the effects that sound vibration with Tibetan singing bowls has on meditation practices. He is also the Mexican representative of the HeartMath organization. Through one-on-one coaching, he teaches programs to increase resilience and allow a more efficient use of energy, bringing people closer to their intuition.
Through meditation and yoga classes and individual consultations Enrique shares techniques from different traditions with people from all over the world. He invites his students to be aware and perceive the world from the Heart in order to deepen the experience of Being.