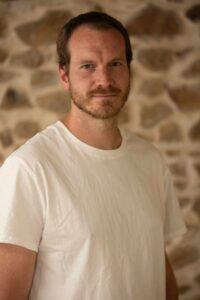 Born in Spain in 1980, Antonio has always been curious about life and its different expressions. This led him to pursue various interests, including theater, music, engineering, social activism, massage therapy, and sound healing. Antonio's formal studies are in renewable energy engineering, as from a very young age, he felt a deep connection with nature and a desire to respect and care for it. As an actor and storyteller, he has been applying systemic theater techniques, social theater, and theater of the oppressed to the resolution of conflicts, nonviolent action, and personal development for more than 15 years.
Antonio's spiritual connection came from his shamanic drumming studies and core shamanism. Through bathing in the sound and vibrations of different ancestral instruments, he began to perceive the unity of nature and human beings, opening the subtle dimensions to his understanding of life and experiencing healing effects.
In 2020, Antonio became part of the permaculture team in Longeval and has been a Karma Yogi ever since. He completed the 2021 Hridaya Teacher Training Course and serves on the teaching team.
Antonio connects deeply to the healing capacities of opening to the Spiritual Heart through Nada Yoga and working in nature with sacred musical instruments, on a background of Self-Inquiry.