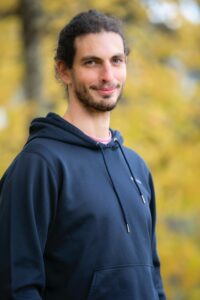 Paul's first contact with spirituality came informally during childhood, growing up in very different places, from Eastern Europe to tropical islands in the Indian Ocean, where the presence of nature and the diversity of cultures gave him a sense of curiosity and wonderment about his existence on this planet.
In 2016, he started compulsively reading books on Zen Buddhism and practicing meditation on his own. While traveling in New Zealand in 2017, he fell in love with Karma Yoga and Bhakti Yoga at a yoga retreat center of the lineage of Swami Satyananda. Since then, he has practiced meditation, Hatha Yoga, and Karma Yoga regularly.
Paul discovered Hridaya when he arrived at Longeval in June 2021, and has been living, serving, and practicing there ever since. He did the 2021 Hridaya Teacher Training Course and is now part of our teaching team, teaching Hridaya Yoga Retreats, drop-in classes for locals, Discovery Weekends, and Hridaya Silent Meditation Retreats.