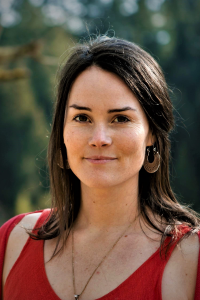 "The wound is the place where the Light enters you." –Rumi
Vira is dedicated to the great healing and expansion of the sacred human heart, with all its deep scars, sensitivity, and unbounded power.
Vira completed the Hridaya Teacher Training Course in 2016, is trained in Emotional Release Massage, and participated/assisted in the Priestess School modules (by Sofia Sundari).
With great interest in trauma work as well as a scientific background in the field of attachment mechanisms, in 2015 she followed her calling for true Freedom to Mexico, where she went on a deeply transformational journey for several years, sitting in several silent/dark retreats.
From early childhood, she felt a strong intimacy with Jesus and Mother Mary, which deepened in an intensive temple training in Egypt as well as the connection with Mother Isis, Mary Magdalene, and the Lineage of the Rose.
Continuously exploring her innermost heart, she is fascinated about integrating Self-Inquiry with an embodied experience of the feminine mystery, the capacity to expand in miraculous ways into the fullness of life, as Life itself.
In her work, Vira creates transformative temple spaces in which women come to meet deeper dimensions of their vibrant feminine soul and feel safe enough to re-open and follow their longing to taste the innate innocence of their untamed Nature.
Currently, she lives with her partner in Portugal and is happily expecting her first birth initiation. Find out more about Vira and her offerings on her website.