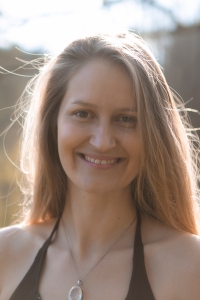 Turiya is a devoted explorer of Truth. Following the calling of the Self, Turiya continues to reveal ever more subtle layers of the being.
There was a deep churning of recollection when Turiya crossed paths with Hridaya Yoga Mexico in 2015, where she lived, served, and practiced over an intense period of two years. Since then, a profound remembrance of unfiltered Beingness was uncovered through participation in multiple silent meditation retreats, dark room retreats, the 500-hour Hridaya Teacher Training Course, and the 49-Day Prathyabhijna Retreat.
More recently, Turiya's focus of service is being guided towards the reverent homage to the Divine Mother, the Great Womb of Creation, Shaktism, and ancient feminine mysteries.
The Sacred Tremor of the Heart is opening more refined perceptions and correlations to the inherent potency of the holy Womb space—the dark, vast, boundless landscape where Devi, the Goddess, plants her seeds, pours love-nourishment, enjoys the fruits, and then, in wild joy, clears the land for a new cycle to begin.
In 2020, a strong connection with Mary Magdalene was (re)established, and Turiya feels blessed to receive her love, direction, and support on this evolution into the Divine Being that We Are. Through a synchronistic series of encounters, Turiya feels that Mary Magdalene guided her to settle in a small French village at the base of what is coined "La Colline Eternelle" ("The Eternal Hill"). It is from here that she is following her intuition to reveal deeper layers of direct-knowing, fullness, and simplicity while also serving as a guide to those Women that want to remember and re-ignite the wise woman within. Turiya has completed and continues with ongoing studies in Ayurveda and Marma Therapy, the Egyptian Mysteries, Women's Menstrual Wellbeing, and Embodied Relating.
To connect with Turiya or learn more about her work, please visit her personal website.