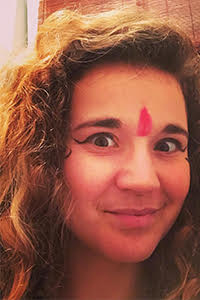 Originally from Germany, Hannah is a trained professional dancer, yoga and meditation teacher, and cacao ceremony leader, and offers healing sessions and ceremonies combining all of these skills. After working in politics in Berlin for many years with a longing to bring more solidarity and harmony into the world, Hannah left for Mexico after burning out of her dance career and being called to dive into spirituality.
Hridaya was recommended to her, and her experience at the school changed her perspective on how to live and work in the world. Finally, she felt like she was at home. After a lifelong fascination with love as the most important essence of the Universe, she found a spiritual tradition and life that supported that understanding. Since then, she has dedicated all her actions to reconnecting people to the essence of love, which lies within all of us ready to be revealed.
Hannah teaches yoga, meditation, dance, and women's empowerment and leads cacao ceremonies in different variations.