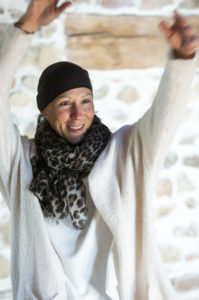 "Deepening on the path of Love and the Heart, waking up to presence, serving for the benefit of all"– Jessica describes her inspiration to serve at Hridaya. With a background in psychology and an education in midwifery, she spent several years working as a midwife – a continuous practice in presence, in pure intimacy with life.
Following the calling for a deeper truth and greater freedom, she chose to expand her life's path in 2016, embarking on travels to Central America and Asia to study further practices of healing, bodywork, and spirituality. Making time for a more continuous practice of yoga, she began to explore the depths of meditation.
She completed her first 200-hr Yoga Teacher Training in Hatha and Calligraphy Yoga in Costa Rica. The calling for a deeper truth and greater freedom lead her onwards to Hridaya Mexico. First serving as a Karma Yogi, she was deeply touched by the non-dual teachings and consequently completed the 500hr Hridaya Teacher Training Course in 2018.
Currently, she is serving as a teacher and as Karma Yoga Coordinator at Hridaya France. She loves to share the beauty of the teachings of the Heart – opening further to the mystery of life unfolding…