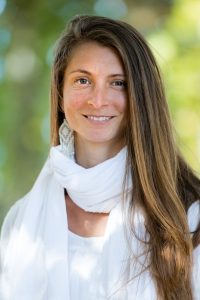 Paulina's curiosity towards yoga started as a physical exercise around 2003. However, everything shifted when she did her first 10-day silent retreat in 2011. Since then yoga, in all its facets, is at the very core of her life and all else revolves around it. She has participated in and taught silent meditation retreats, yoga modules, and workshops in Mexico and Europe.
Paulina loves to share the depth and light that meditation and yoga have brought into her life. What keeps her enthusiasm is to see the transformation and peace that this way of life brings to people from all walks of life.
Paulina has studied with many different teachers, took two 200-hour yoga teacher trainings, and in 2017 she completed the 500-hour Hridaya Teacher Training Course. After moving around the globe since 2011, she is now based at and teaches at Hridaya Yoga France near Lyon.