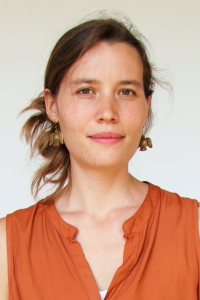 Déborah discovered yoga in 2014 while living in San Francisco and working at a little theatre company. She started her practice exploring different schools from Vinyasa to Iyengar, and then Integral Yoga, slowly opening the way to a more spiritual and profound approach of Yoga and kindling in her a curiosity to learn meditation. Her first meditation homes were the Zen Center and the Insight Meditation Center of San Francisco.
These experiences planted the seeds that led her in 2016 to quit her job and follow a Hatha Yoga teacher training course in Guatemala. Deeply touched by the teachings she received and her first silent retreat, she traveled to the Hridaya Yoga center in Mexico to learn more, and then went to Asia, following a longing for deeper understanding and more transformation.
After completing this journey, she came back to France and joined the Hridaya Yoga France project as a Karma Yogi, helping to establish the new center in Longeval, and then running it the first year of its opening. In 2019 she completed the Hridaya Teacher Training Course in Mexico. She presently teaches at Hridaya France and continues to be involved as an administrator of the school, wishing to serve and to share the beauty of meditation and yoga, and of the Heart's teachings with all.