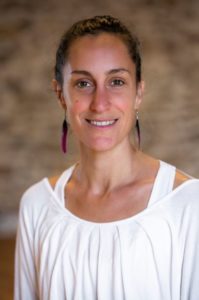 Estelle found her way into spirituality through movement and dance. In dancing, she reached meditative states, but only years later recognized them as such. In 2015 she traveled to Guatemala, where she came into contact with yoga and formal meditation for the first time. She started realizing that what she had previously experienced had indeed been a form of meditation, and her curiosity and fascination for the inner world drove her further into the esoteric teachings of spirituality.
In Guatemala, she had her first experience of retreating into silence—an experience that had a deep impact on her, and that she immediately knew was only the beginning. In 2016, looking to go deeper in the mysteries of silence, she came to Hridaya in Mexico.
Since then, she has completed several Hridaya Yoga modules as well as silent retreats and darkroom retreats, and she has served as a karma yogi in various departments of the school. Estelle finds that diving fully into long hatha yoga practices and periods of solitude and silence has helped her open to higher states of consciousness, but what has brought the biggest personal transformations has been the constant practice of karma yoga in the Hridaya community.
In 2018, her longing to deepen her own practice and share it with others led her to complete the Hridaya Teacher Training Course. Since graduating, Estelle has taught in English and in French in both Mazunte and France, and is currently based in Longeval, where she also gives silent meditation retreats in French.