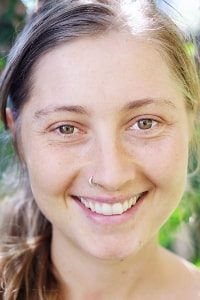 Rosanna Osterlund has been a seeker since childhood, but it wasn't until she started traveling in 2011 that she began to find answers. A natural caretaker and giver of love, in 2013 her journey finally turned inward when serendipity led her to try meditation for the first time and a little fire was kindled in her heart for yoga.
The end of 2014 saw that love burst into flames when she found the Hridaya Yoga Center in Mexico. The calling was clear, and Rosanna embarked on a full journey of silent retreats, karma yoga, and an ever-deepening personal practice. She supplemented this knowledge by returning to her native Sweden in 2015 to study herbalism and Ayurveda. Things came full circle in 2016 when she completed the Hridaya Teacher Training Course and spent the subsequent year immersed in service. Rosanna and her partner, fellow Hridaya teacher Will Allen, are now sharing these gifts through their branch in Europe, Rox and Will Teach Yoga.
Rosanna's mission is to integrate the Hridaya teachings in a truly holistic way―meaning that all aspects of life must be touched by the blessings of the Heart. Combining natural wellness practices with Ayurveda and yoga have brought many blessings to her, and it's her life's pleasure to share them with the world.
Website: roxandwillteachyoga.com