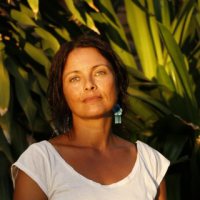 Amita is a Leo born in 1974. After a professional nurse graduation, she met the yoga that practices since more than 20 years learning from various masters known in several trips to India. At young age she got passionate of the teachings of Osho Rajneesh after a trip to Puna. Graduated in 2000 in Technique of Thai Massage in Chang-mai (Thailand), Ayurvedic Massage in Rishikesh (India), Foot Massage at Wat Po school in Bangkok (Thailand), Reiki level 1 and 2. She practices the art of massage since more than 12 years, teaching massage techniques workshops all around the world.  She followed for many year the teaching of Swami Vivekananda Saraswati of Agama Yoga who initiated her in the Hatha Yoga and Kundalini practices of the authentic Tantra Yoga tradition. She was certified with a teacher training course RYS 500 at Agama Yoga school in Thailand. From long time she is disciple of the spiritual master Sahajananda founder of Hridaya Yoga who brought her in contact with the teachings of Advaita Vedanta and meditation techniques of Ramana Maharishi.
Amita leads Hatha and Dinamic Yoga classes, workshops, meditation retreats around the world in various languagesas well as her famous womens works. Her book about tantric femininity is about to be released.
She had a strong practice of Kundalini Yoga and meditation for many years, reaching a deep level of knowledge in spirituality. Her charisma and loving care for the students made her a very popular teacher, a good blend of strength and sensitivity are her best qualities.
Amita dedicate her entire life to the spreading of these amazing teachings.