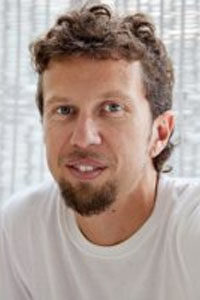 Marco is an Aquarius born in 1978. He began the practice of yoga over two decades ago with the teachings of Paramahansa Yogananda and Kriya Yoga, deepening his studies of Indian philosophy in many years spent in India. He a long-time student of Hatha Yoga, Tantra Yoga, Kundalini Yoga, Advaita Vedanta, and Kashmir Shaivism. He has practiced Hridaya Yoga for many years and is a certified Hridaya Yoga teacher (RYS500).
He leads Hatha Yoga classes, workshops, and meditation retreats around the world in various languages.
His strong aspiration and steady practice brought him to a deep level of knowledge and transmission. He considers teaching yoga the best way to contribute to the spiritual realization of other people, as well as an amazing way to improve his own spiritual growth.
His vision is to see a better future through the work of spreading the supreme knowledge of yoga around the world.