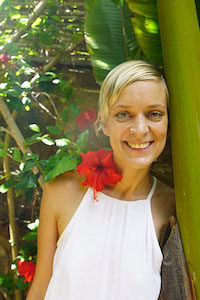 Karin practicó  meditación Vipassana durante muchos años antes de que empezara a estudiar Hatha Yoga y Tantra Yoga en Suecia en 2011. Cuando encontró  Hridaya en 2014,  sintió que esto era como una hermosa combinación de sus prácticas anteriores, definitivamente tenía la sensación de regresar a casa, al corazón, ¡Enamorarse!
Se ha quedado y ha enseñado en el Centro de Yoga Hridaya en Mazunte desde que se graduó del Curso de Formación de Maestros Hridaya en 2016.
Además de ser maestra de Hridaya, Karin es también graduada de la Escuela de Tigres de Durga Tantra Yoga Teacher Training (basada en Ecuador). También ha ejercido profesión  como trabajadora social especializada en educación sexual y fue dibujante de historietas.
Ahora, combina todas sus experiencias con su pasión por el juego, el baile de contacto y el teatro improvisado en su proyecto de alma, "Way of Play." La meditación, el yoga y el tantra llevan a estar presentes en un estado de felicidad que no juzga, libre de mente, ¡y también lo hace el juego! Al jugar y bailar, esta conciencia ocurre en movimiento con los ojos abiertos. Para Karin, el juego ha sido una manera hermosa de traer el estado de naturalidad y flujo a la vida cotidiana. A través de "Way of Play", ofrece una variedad de talleres, asesoramiento basado en soluciones y entrenamiento de yoga individualizado.
Si quieres dejar caer el ego y la mente, un gran camino es atreverse a ser tonto, espontáneo, y divertirse! También es bueno entender el ego a través del asesoramiento y obtener ayuda para ajustar su práctica a sus bloqueos específicos y activaciones del chakra. Y, ese es el punto de "Way of Play"!