5-Day Art of Awareness Workshop
Sahajananda
March 28 - April 3, 2022
Let the wisdom of the Vijnana Bhairava Tantra open you to the most intimate of experiences. This fundamental and fascinating Tantric text describes how to use everything—from commonplace daily experiences to sublime contemplations—to reveal the Consciousness of Oneness, the Reality of Being.
With Hridaya founder Sahajananda as a guide, you'll spend five days exploring an intriguing array of practices that flow naturally from the intuition of the Spiritual Heart and demonstrate the potential for life to blend joyful mystical celebration and silent Self-Inquiry. As you develop a broader understanding of the spiritual path and how it can be walked in countless situations, Freedom and Love will naturally blossom.
Join us and learn to reveal the beauty inherent in every moment.
IMPORTANT: Please note that this is a traditional, spiritual course. The techniques shared may appear straightforward but require a thorough metaphysical explanation rooted in the Kashmir Shaivite tradition. Although we'll devote much time to practice, when joining us, be aware that there are also satsangs (lectures), short video presentations, formal meditations, etc. Being open to this format will help you understand the subtleties of the teachings and experience them on a more profound level.
Teacher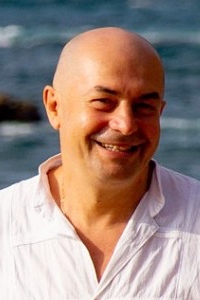 Sahajananda
Sahajananda, the main founder of Hridaya Yoga, is a meditation and Hatha Yoga teacher with over 35 years of experience. His message conveys the non-dual Tantric teachings. An engineer in electronics by education, Sahajananda started…
Learn more about Sahajananda