17-Day Hridaya Silent Meditation Retreat (in English)
Sahajananda
March 10 - 28, 2022
Deepen Your Retreat Experience
The 17-Day Hridaya Silent Meditation Retreat is a unique opportunity to do an extended retreat in silent contemplation, diving deeper into the teachings of the Spiritual Heart while being held in a supportive group atmosphere.
Hridaya Yoga founder Sahajananda leads this retreat once annually at our centers in France and Mexico. It's a chance for you to bring your practice to a new, more profound level. The longer format creates optimal conditions for you to experience penetrating insights into Awareness, Compassion, Beauty, Love, Bliss, and Freedom.
The retreat begins with participation in a 10-Day Hridaya Silent Meditation Retreat. As it progresses, the meditation sessions become longer, the energy builds, the mind starts to quiet, and the ever-present background of Stillness begins to reveal itself.
The final seven days of the retreat bring even more gifts, including special teachings and practices that Sahaja only shares in this format. This extended period of practice offers revitalization, inspiration, and lasting spiritual transformation.
No previous meditation or yoga experience is required as this retreat is designed for beginners and advanced meditators alike. To participate, all you need is the aspiration to spend 17 days in silent communion with your inner self.
Teacher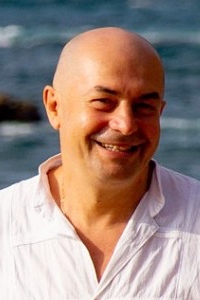 Sahajananda
Sahajananda, the main founder of Hridaya Yoga, is a meditation and Hatha Yoga teacher with over 35 years of experience. His message conveys the non-dual Tantric teachings. An engineer in electronics by education, Sahajananda started…
Learn more about Sahajananda