49-Day Pratyabhijna Retreat
Sahajananda
January 28 - March 18, 2022
A Long-Term Retreat with the Personal Guidance of Sahajananda
Do you have a profound spiritual aspiration? Are you yearning to do a long-term retreat? The Pratyabhijna Retreat is your invitation to take your meditation practice to a deeper level by spending 49 days in solitude.
You'll begin in a group 10-Day Hridaya Silent Meditation Retreat led by our founder Sahajananda at our center in Mexico. You'll then move to a solitary cabin in a retreat center in the mountains about 3.5 hours away and spend 39 days dedicated to personal practice.
To make it easy for you to surrender to solitude, we take care of everything. We'll transport you to and from the mountains, deliver lovingly prepared vegan meals to your door twice daily, and have a dedicated staff member available to help you with whatever needs arise.
What's more, Sahajananda will continue to provide personal support, guiding you through the retreat by answering your written questions. He will help you overcome any obstacles that arise in meditation and break through your subconscious limitations and self-created boundaries.
Whether you are a seasoned Hridaya practitioner or an adept of other traditions, if you have strong determination and an attitude of surrender to the Spiritual Heart, this long-term retreat is for you.
Teacher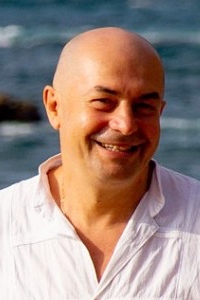 Sahajananda
Sahajananda, the main founder of Hridaya Yoga, is a meditation and Hatha Yoga teacher with over 35 years of experience. His message conveys the non-dual Tantric teachings. An engineer in electronics by education, Sahajananda started…
Learn more about Sahajananda