Hridaya Hatha Yoga for Men in England
Adam Thomas
Open Dates
Join Adam every Tuesday for a yoga class specifically for men. The intention of this class is to provide an encouraging and supportive space for men to come together and practice Hatha Yoga.
We have noticed that many of the men who attend have similar injuries or struggle with the same asanas. We tailor these classes to take these aspects into consideration, creating a safe and enjoyable space for men to practice yoga together.
The practice is mostly performed with the eyes closed and we generally hold asanas for longer than other styles. This helps us interiorize and connect with the more subtle aspects of our being. We often describe it as "meditation in motion." The practice is slow, gentle, and deeply energizing. We practice with a non-pushing attitude, striking a balance between effort and relaxation.
Hridaya Hatha Yoga is for everyone! People of all ages, body shapes, sizes, and ability levels are welcome. No prior experience necessary, you will be fully guided throughout the session.
Every Tuesday, 9:30–11:00 am at Eversfield Organic Wellness Loft The Plains, Totnes Devon TQ9 5DW.
Website: kalyanyoga.com
Booking: Register Now
Teacher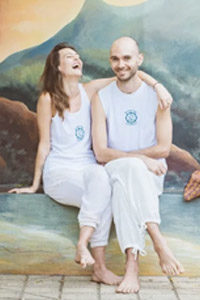 Adam Thomas
Adam started practicing yoga in 2014. He found stability in the practice after completing a 10-Day Hridaya Silent Meditation Retreat in 2016. During this retreat, he connected to a deeper aspect of his being which…
Learn more about Adam Thomas