Hridaya Hatha Yoga Classes in England
Sabina Macintyre
Open Dates
Join Sabina on Saturday mornings for Hridaya Hatha Yoga practice. The practice is mostly performed with the eyes closed and we generally hold asanas for longer than other styles. This helps us interiorize and connect with the more subtle aspects of our being. We often describe it as "meditation in motion." The practice is slow, gentle, and deeply energizing. We practice with a non-pushing attitude, striking a balance between effort and relaxation.
Hridaya Hatha Yoga is for everyone! People of all ages, body shapes, sizes, and ability levels are welcome. No prior experience necessary, you will be fully guided throughout the session.
Every Saturday from 9:30–11:00 am at Eversfield Organic Wellness Loft The Plains, Totnes Devon TQ9 5DW.
Website: kalyanyoga.com
Booking: Register Now
Teacher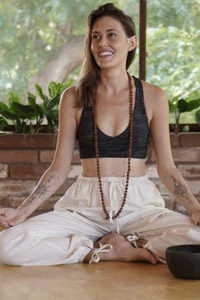 Sabina Macintyre
Sabina has been exploring different styles of meditation since first coming across buddhist teachings in 2004. Deeply inspired after completing a ten day Hridaya Yoga meditation retreat in 2017, she halted her legal career and…
Learn more about Sabina Macintyre